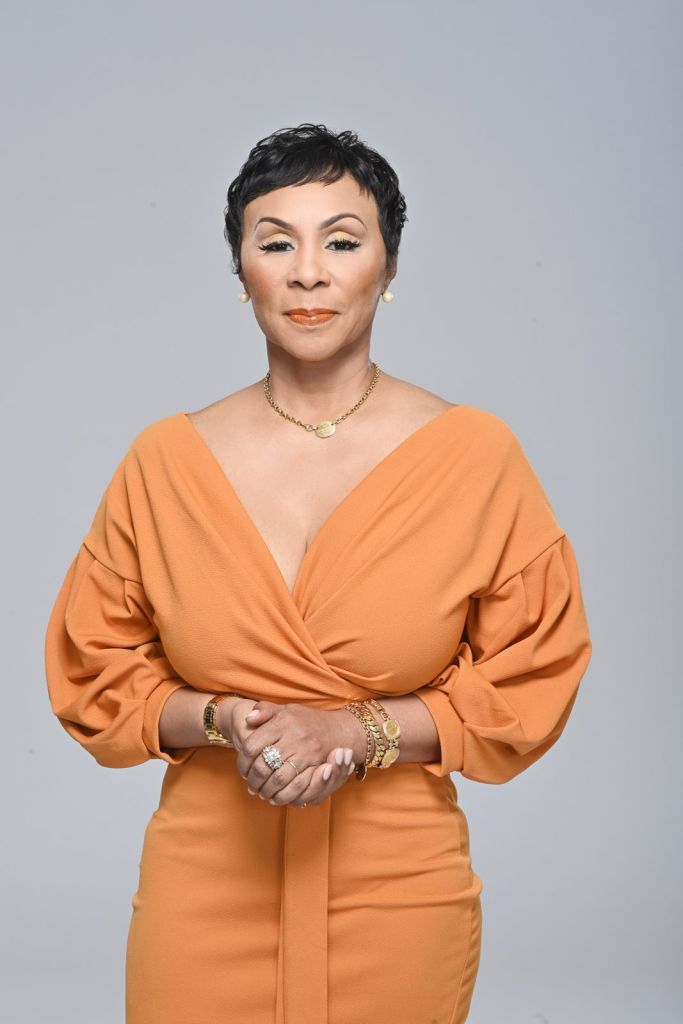 Our Founder and survivor of this injustice and prison system, Dr. Carmen Johnson
After returning home from physical, mental, and justice abuse on this sabbatical in the federal court and prison system Carmen was unable to function mentally.  She had gone through 5 years of mental health abuse from the raids, pretrial, trial, and then 3 years of physical abuse in the prison system.  Carmen now suffers from chronic PTSD and extreme anxiety. Karen, Carmen's sister, worked very hard with getting Carmen assimilated back into the community. Karen also had to focus on getting the right mental health treatment for Carmen. Karen had to constantly remind her sister of who she was. Carmen's famous quote was "Do something to justify your existence. Together we can create the future."
Philanthropist and Civic Leader, Dr. Carmen Johnson, was best known throughout the Washington Metropolitan Area as a voice for economic and social empowerment for disadvantaged youth and vulnerable families through her work for over 25 years of experience as a Financial Educator in the Financial Services Industry.  Carmen was certified as a Financial Educator by The Institute for Financial Literacy and started Able Estate & Company in 1998. She created a million-dollar company offering services in credit restoration, debt management, financial planning, paying off debts on clients' credit reports with them paying back in small installments, household budgeting, preparation, and rehabilitation after bankruptcy, offered financial strategies personally, and in business. Able Estate & Company is a former member of Equifax, Transunion, and Experian. Carmen also founded the Katie Able Foundation in 2008. Under her leadership, The Katie Able Foundation carved out a special niche in helping a diverse group of at-risk populations, including the elderly and youth. The Katie Able Foundation provided mentoring, financial literacy classes, and workshops to more than 850 youth and 5,000 adults. The fruit of her labor helped save homes and families facing foreclosure. Carmen used some old-fashioned techniques taught by her late grandmother to build a nonprofit brand that celebrates financial independence and financial literacy for at-risk populations through her Financial Literacy programs the Katie Able Foundation offered. She was widely recognized as an expert in credit counseling, debt elimination, and wealth-building techniques in self. As such, she was also a partner with Prince George's County Schools private and public to teach her innovative financial literacy mentoring at six schools, including Robert Frost Elementary School in New Carrollton and Duval High School in Lanham, MD where the program was first introduced.
Carmen had crafted an enviable and stellar reputation as a tireless advocate for youth and the elderly. Johnson is renowned as an excellent clinician and visionary leader who used cutting-edge technology to navigate through the stormy roads of legal entanglements that often stymie progress in community-based programs. She has a proven track record as a leader "who gets it done" by building bridges with community coalitions that often provide resources and support to implement powerful programs that can be used as mechanisms for change for those who are often overlooked and neglected by wider society.  A widely sought-after speaker and workshop clinician, Carmen provided direction and consulting for a wide variety of public schools, community organizations, and corporate entities.  Indicative of the high esteem to which she is held, Carmen also served as the Committee for Education for the Prince George's County Chamber of Commerce. Peter Franchot the Comptroller of Maryland formerly worked with Carmen and her organization on bringing Financially Literacy into the school system in Maryland. Carmen sat on the transition team for education for the former County Executive, Mr. Rushern Baker of Prince George's County. Carmen is the former Youth Advisor for the NAACP Youth Board and the former Housing chair for Prince George's County and the former Housing Chair for the state Conference of Maryland, NAACP. Carmen also provides regular Financial Tips on the Parent Talk Radio Show sponsored by Forest of Rain Productions.  Carmen is a former member of the Zontians started in 1919 and honored by Amelia Earhart. This organization stands for Honesty and trustworthiness, inspiration, and the ability to work together for service to the world as a whole. The Zontians also stand for women's rights, equality, education and to end child marriage and gender-based violence worldwide, and also focus on making and implementation of laws. Zontas promotes real equality, not formal equality alone.
Carmen had created a niche in educating youth, seniors, returning citizens, and abused women about financial literacy through a wide variety of grassroots programs designed to uplift, empower, and destroy the barriers to individual and family prosperity.  For Carmen, financial responsibility and good credit are at the root of community and family success. She is still committed to changing the culture of low-income streams and credit unworthiness particularly among minority populations in urban neighborhoods often defined by redlining and exorbitant interest rates. She brings a special passion to her work as a mentor, financial counselor, and educator. Johnson is uniquely qualified to teach financial literacy by virtue of her individual success and as one of the few individuals who held separate professional certifications as a Certified Educator in Personal Finance, Certified Consumer Debt Specialist, and Certified Residential Housing Counselor. She also held a Certificate of Achievement as a Business Finance Consultant.
From the beginning of 2020 until now, Carmen has been working with Life After Release after her own unexpected wrongful conviction and incarceration. She took a political hit and spent three years in the federal prison camp for women in Alderson, West Virginia.  When LAR Executive Director asked Carmen to coordinate LAR's court watch program, Carmen accepted. "I don't want anyone to go through what I went through." Since then, Carmen is now the Director of Court Watch PG and has sat in over 3000 bond review hearings in the District Court of Prince George's County. They now have over 116 court watchers along with law students that work under the guidance of Dr. Carmen Johnson. Because she's now an expert in prison and justice reform, based on her experience and work, Carmen assists with participatory and post-conviction defense to help families get their loved ones out of prison and also help them to navigate through the legal justice system. She speaks to elected officials, delegates, senators, congresspeople on the need for prison and justice reform.
Through her guidance she also works with Law Students from Howard, Berkeley, UDC, Georgetown, and American University and the list is growing.  She promotes this wisdom to the law students, "I expect you to go off to become great attorneys and great judges. I need you to keep your moral compass and continue to do the right thing with your career, your gifts, and talents by the injustice and racial disparity that you see in the courtroom when you court watch every day. Never let anyone go through what I went through." Carmen has been focused on those 9 crime act bills from 1968 to 1994 and hopes to dismantle them.
Karen, Carmen's little sister, has successfully brought her big sister back from that sunken place to create an awesome 501c3 called "Helping Ourselves To Transform". Karen states, "This organization that we started will help all returning citizens to gather the tools they need to be great citizens by transforming themselves based on our personal family's journey we had to go through with our loving sister Dr. Carmen Johnson. The healing continues with my sister and the community as a whole."